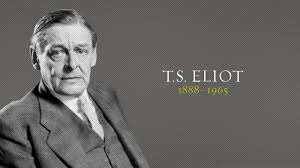 Wed October 18th – Lunch with author Jim McCue
Posted by admin
On October 4, 2017
0 Comments
Jim McCue was at St Catharine's College Cambridge from 1981-83 and is a freelance editor and writer. In particular, he is interested in the process of transforming doctoral theses into books. Other work has ranged from scholarly and fine press publishing to newspapers, and from commercial copywriting to auctioneers' and booksellers' catalogues. During fifteen years on The Times as sub-editor and commissioning editor, from 1992 to 2006, he edited prime ministers, Prince Charles, Simon Jenkins, Bernard Levin, Conor Cruise O'Brien, and politicians, historians, scientists and commentators of all kinds. While at The Times, Jim also helped to edit the house style book. Since then he has been involved as the joint editor, with Christopher Ricks, of The Poems of T. S. Eliot – the subject of his talk to us.
Thomas Stearns Eliot was a British essayist, publisher, playwright, literary and social critic, and one of the twentieth century's major poets. He moved from his native United States to England in 1914 at the age of 25, settling, working, and marrying there. He eventually became a British subject in 1927 at the age of 39, renouncing his American citizenship. He was awarded the Nobel Prize in Literature in 1948, "for his outstanding, pioneer contribution to present-day poetry".
This lunch took place at the Savage Club in Bank Place on 18th October, 2017 at 12 noon for 12.30pm..