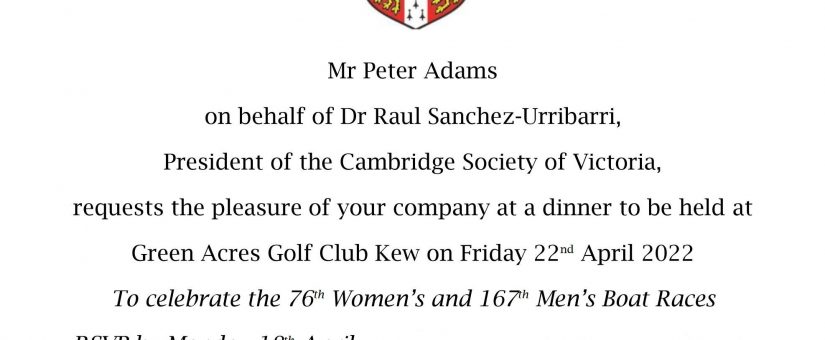 Boat Race dinner – Friday 22nd April 7pm
Posted by Fabrice Boucherat
On April 6, 2022
0 Comments
We have a splendid and well ventilated venue for the 2022 Boat Race Dinner. Green Acres Golf Club in Kew is still lovely even when you can't see the golf course (dratted day light savings). We've arranged for a proper sit down dinner, two courses and wine will be $85 per person – you are welcome to bring a guest or guests.
We will have a big TV screen to show the races – and will rustle up someone to give an interesting running commentary!
If you'd like to come, you can book and pay online via:
https://www.trybooking.com/BXZCL 
You can direct questions to Peter Adams at golf@cambridgesociety.org.au or to Trish at hello@cambridgesociety.org.au
If you would prefer to pay directly into our bank account you can click here – send an email to request bank details
If you'd like to print an invite to stick on your fridge, you'll find it HERE
If you have chums/colleagues/contacts that would be interested – forward this to them, as we are often getting spam filtered.