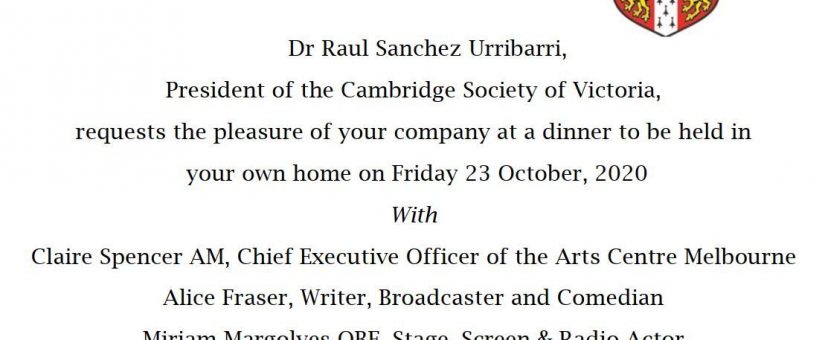 2020 Annual Dinner of the Society
Posted by Fabrice Boucherat
On September 28, 2020
0 Comments
Friday 23rd October 2020
We are pleased to announce that our annual dinner will be held in a virtual format on 23 October 2020.
Although it is no mean logistical feat, we thought that there is something special about the sharing of food and wine and we have come up with a plan so that most of us can (hopefully) break bread together, whilst supporting Victorian businesses and the performing arts.
Holding the event online means that the format needs to be a little different, so we are pleased to announce not one but three fabulous guests.
Bookings MUST close 14th October so we can sort out the logistics! So as an incentive….the first 10 bookings (that include food and/or wine) will get a Cambridge University Pin….(they're very smart and worth 8 quid each apparently). 1 per booking!
Bookings can be made at here.
Our 3 Fabulous Speakers
We will be sending updates and reminders with more information on the three fabulous Cambridge alumni that have agreed to be part of our event (and details of how you can ask them questions directly on the night).

Claire Spencer AM was appointed CEO of the Arts Centre Melbourne in 2014, after 12 years at the Sydney Opera House where she was COO and CFO amongst other things. Claire has has a particular passion for inclusion and the democratising of creative experience. Claire was awarded an Order of Australia in January 2020 for services to the community and to the performing arts industry.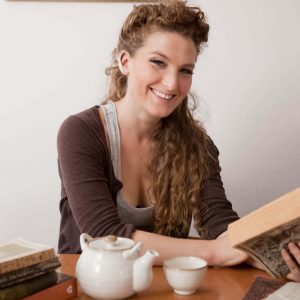 Alice Fraser is an award winning writer, broadcaster, performer and comedian. She is also an ex academic, ex-corporate Lawyer and (sort of) banjo player. Her podcast "Trilogy" was awarded #1 Best Australian Podcast, she writes jokes for the project, pops up on BBC Radio 4 quite a lot and in the olden days played to packed out houses at comedy festivals around the world.

Miriam Margolyes is a BAFTA award winning actress and veteran of stage and screen with her impressive credits too numerous to list (though your kids/grandkids will tell you she is Professor Sprout). She has the most fabulous voice, is very very funny and was awarded the Order of the British Empire for her services to Drama in 2002.
How Will It Work?
We know we can't get it right for everyone – so we have split the booking up into sections.
– Attendance Fee $29
– Food $20
– Wine $24-83 depending on your choices. The winemaker will join us briefly to tell us about the wines on the night. You can order as much as you like!
You will get a box delivered to you which will contain a simple meal (a posh pie and a pudding), wine if you've ordered it, and some information on the running order for the evening, including how you can win a Cambridge themed prize.
We can get wine to you wherever you are….but food is metro Melbourne only, sorry.
We'll be using zoom. The password will also be delivered to your home. Sincere apologies to anyone who is not allowed to use zoom for security reasons….anything else was just too tricky for us. Perhaps you can use a personal device without falling foul of your security settings.
The plan is that you pop your dinner in the oven at about 6:30pm on the Friday, get your black tie or Cambridge themed glad rags on and sit down with your fellow alumni to enjoy your dinner and approximately an hour and a half of talks, Q&A and fun.
We will be sending out more information about the chance to form virtual tables and have some informal catch ups over port late into the night!
We are running this event on a not-for-profit basis. Any leftover funds will go to an artist that performs on the night. It is not cheap putting on an event in dozens of different venues!
How Do I Book?
Book here via Trybooking.
If you don't fancy that, you can transfer funds to our account directly. If you want to do this, send an email to event@cambridgesociety.org.au
outlining how many people, whether you want food and or wine and if you are GF or Veg/Vegan and they will tell you how much to transfer and where.
Don't forget – lovely Cambridge Pin for the early birds.
There will be questions, and probably complaints and suggestions. Please direct these to hello@cambridgesociety.org.au
If you want to print your invitation out and stick it on your fridge….you can find the printable version HERE.