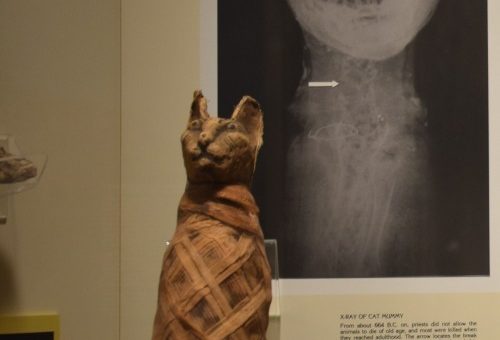 Posted by Fabrice Boucherat
On January 27, 2019
0 Comments
We have a change of speaker for lunch on Wednesday 20th February. Professor Katie Allen being unavailable to address us at lunch, Chris Davey will now deliver a speech on animal mummification in ancient Egypt and report on the associated research carried out by the Australian Institute of Archaeology.
The ancient Egyptians mummified millions of animals and birds. The Australian Institute of Archaeology has a mummified cat which has been the subject of research involving scans made at ANSTO and the Australian Synchrotron. This research has revealed that there is quite a story behind this cat mummy. Christopher Davey will discuss the reasons why Egyptians devoted so much energy to animal mummification and he will report on the results of the research associated with the mummified cat held by the Institute.
Chris Davey became the honorary director of the Australian Institute of Archaeology in 2002 after retiring from National Australia Bank where he was a project finance executive. He has been responsible for the Institute's re-establishment at La Trobe University after it ceased to operate in 1999.  Chris began his archaeology at St John's College, Cambridge, where he also studied ancient languages, and then at the Institute of Archaeology, London. He has dug in the Middle East, Australia and the United Kingdom; he now digs regularly in Cyprus. He has published papers on the history of mining and metallurgy, ancient architecture and archaeology. He edits the Institute's annual journal Buried History.
This lunch will take place at the Savage Club in Bank Place at 12 noon for 12.30pm. The club is at 12 Bank Place (off Collins Street) in the city. Cost is $55 including drinks. All guests are most welcome; the more the better. Would you please advise Peter Baines at lunches@cambridgesociety.org.au or on 9820 2334 by latest Monday noon, 18 February, if you will be coming (and dietary requirements).
Those emailing their intention to attend should ring Peter to confirm if they receive no email confirmation from him within 24 hours of booking.
We will assume that those who have already booked will still be coming, unless you advise Peter otherwise.